On Monday 29th May 2023, DIGI-TEXX VIETNAM representatives participated in the press conference of VIETNAM SPACE WEEK jointly organized by Hau Giang Province People's Committee, Thu Duc City People's Committee, Binh Dinh Province People's Committee, and the Ho Chi Minh City Computer Association with the support of NASA – National Aeronautics and Space Administration.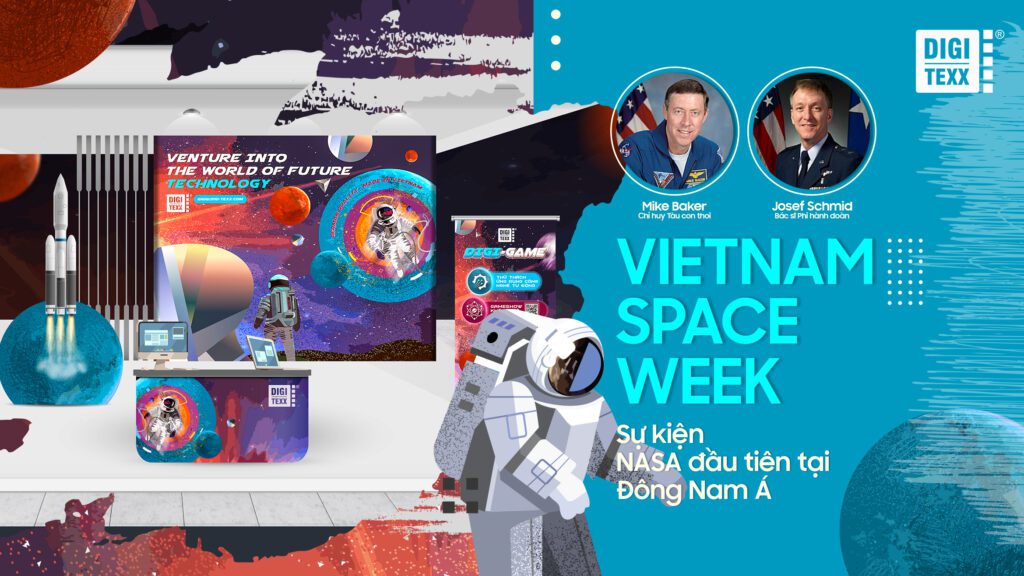 The event welcomes two NASA astronauts, Michael Allen Baker – Space shuttle commander and Josef Schmid – Crew surgeon, to share their stories of space exploration, encouraging participants to learn more about NASAs discoveries and technological advancements.
VIETNAM SPACE WEEK AGENDA:
June 5 (from 7:45 to 21:00): Hau Giang Provincial Convention Center
June 6 (from 7:45 to 12:00): Hau Giang Provincial Convention Center
June 7 (from 7:00 to 13:00): Ho Chi Minh City Student Cultural House (Thu Duc City)
June 8 (from 7:45 to 21:00): Binh Dinh Provincial Convention Center.
June 9 (from 7:45 to 12:00): Binh Dinh Provincial Convention Center.
ACTIVITIES:
Participants can chat, ask questions, interact, and sign autographs with two astronauts from NASA. Plenty of gifts are waiting for you!
Experience STEM education activities in fields like astronomy, robotics, virtual reality, virtual universe, and more. In addition, there are minigames with fascinating rewards for participants.
The competition allows groups of students to join in a STEM competition to solve topics related to science, technology, engineering, or math.
Activities to explore the sky through telescopes, explore constellations and unveil the mysteries of the universe.
As a company that cherishes education and values creativity, DIGI-TEXX strives to foster a passion for learning among employees and future generations. Our sponsorship program aims to support academically gifted, leadership-oriented, and passionate students.
We are beyond excited to sponsor a professional STEM (Science, Technology, Engineering, and Math) competition in Vietnam, aiming to inspire talented and deserving students to pursue their careers in STEM.
NASA men and women are examples of resilience and strong will in the face of adversaries to innovate and achieve greatness. DIGI-TEXX hopes the young generation of Hau Giang and Mekong Delta will be inspired by the astronauts' stories.
VIETNAM SPACE WEEK is open to the public and you can visit DIGI-TEXX's booth in Hau Giang.