Invoice Processing Services
Outsourcing invoice processing services helps streamline and improve your accounts payable/accounts receivable processes to enhance business efficiency and operational costs.
24/7
365 Operating Services
1200+
Experienced employees
100%
Data security &
Quality Assurance
Simplify Invoice Processing with Automated Solutions
Tracking and processing your invoices are complicated by multiple email trails, paper shuffling, and manual keying. Processing invoices manually could slow down business operations and ultimately affects your client's experience.
Invoice or e-invoice processing can be a troublesome process that requires a lot of time and resources. Incorrect invoices can bring on harsh, negative impacts on businesses.
DIGI-TEXX applies expertise in technologies such as AI OCR (Artificial Intelligence Optical Character Recognition), Machine Learning, Deep Learning, and NLP (Natural Language Processing) combined with in-house operators to boost the invoice automation process and achieve the maximum possible data accuracy.
The service can be flexibly operated both offline at DIGI-TEXX and online on the client's system.
Invoice processing services
We provide accurate and cost-effective industry-optimized services to streamline your business processes. Our experienced and professional staff ensures high-quality and accurate data. Here's a brief overview of our services:
Invoice Management Service
Our invoice management solutions are the most comprehensive in the market. Our services will empower you to effortlessly match purchase orders to invoices, handle checks and cash seamlessly, and accurately log every transaction.
Invoice Automation Service
Looking for an automated invoice service to validate data, ensure correct codes, and save operating time? Our system can capture, digitize, and extract data from digital and paper invoices with computer vision and optical character recognition.
Dental billing service
DIGI-TEXX offers a full-service dental billing solution. This includes patient data entry, claim verification, claim submission, and payment posting. Their primary focus is on growing your account receivables with an efficient management system at hand.
Medical billing service
We provide a flexible, confidential, and professional medical billing facility. Our experienced staff has in-depth experience in this industry and is committed to optimizing your reimbursements.
You're gonna love dIGI-TEXX
Managers from many kinds of businesses turn to DIGI-TEXX to enhance their client's digital experiences.
Our Deployment Models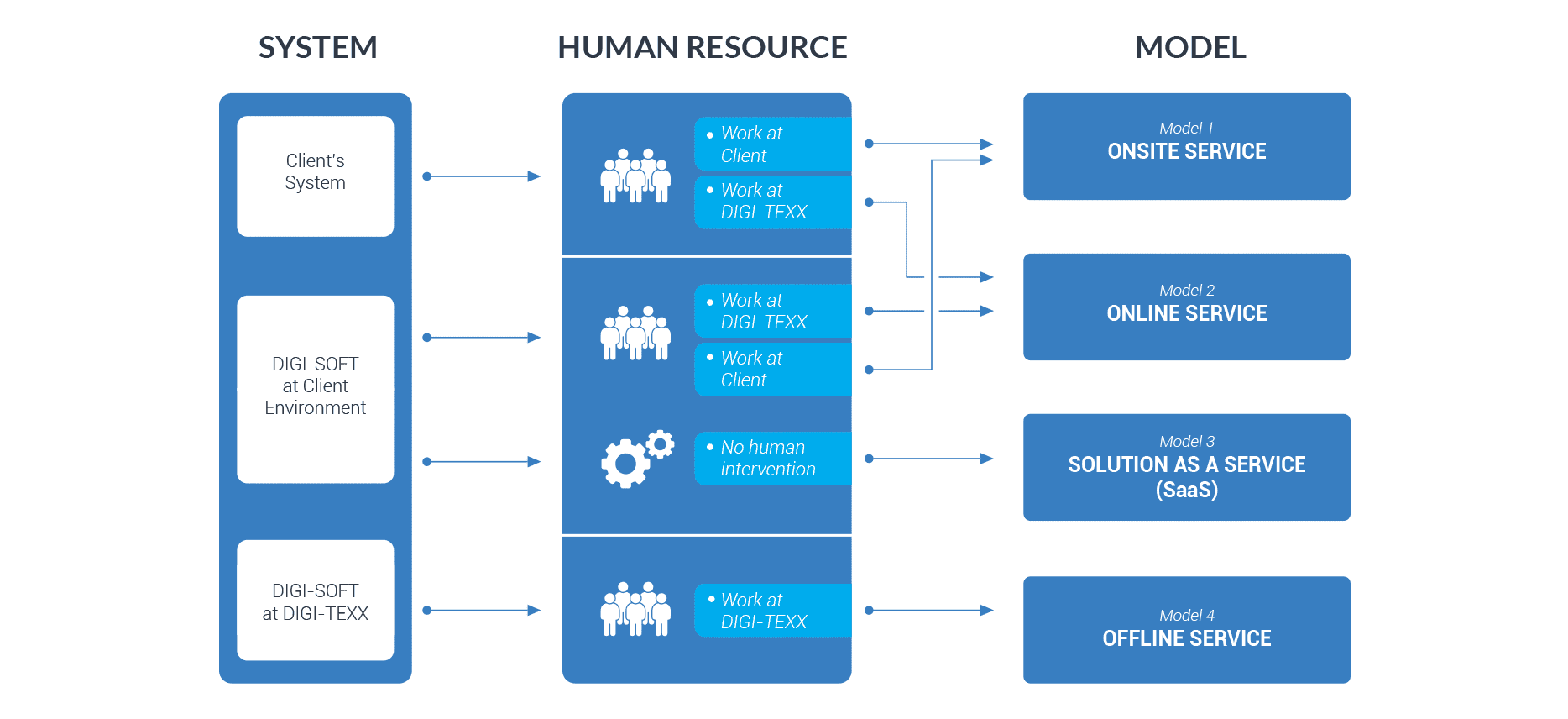 Our Invoice Processing Automation Solution
Our invoice processing specialists apply advanced scanning technology and the latest invoicing software to provide quick and precise invoice processing solutions. We capture accounts payables and invoices in either electronic or paper format, translate them, classify them, and input the data into your financial system.
DIGI-TEXX's invoice processing services are adaptable to the unique requirements of clients' specific industries. We provide customization workflow upon your operating models. There are 3 typical steps:
frequently asked questions
Our team of experts is here to answer any questions you may have and provide you with a free consultation. If you don't see an answer for you below, feel free to send us a message.
How does our invoice processing methodology work?
We create an optimized N-step process to provide an efficient, secure, and comprehensive database development environment.
Vivamus integer suscipit taciti etiam primis tempor sagittis sit euismod libero facilisi aptent felis blandit cursus gravida sociis tempor.
Vivamus integer suscipit taciti etiam primis tempor sagittis sit euismod libero facilisi aptent felis blandit cursus gravida sociis tempor.
Vivamus integer suscipit taciti etiam primis tempor sagittis sit euismod libero facilisi aptent felis blandit cursus gravida sociis tempor.
Vivamus integer suscipit taciti etiam primis tempor sagittis sit euismod libero facilisi aptent felis blandit cursus gravida sociis tempor.
Your Industry will benefit the most from our services
DIGI-TEXX implements automation invoice process tools and models to provide a comprehensive solution for various industries. There are several invoice processing use cases across many industries:
Hospitality
With our invoice processing solutions, we help hospitality businesses automate and streamline their invoice management.
We unburden E-commerce businesses by eliminating manual tasks and paper-based processes by tracking and reconciling payments.
We assist healthcare organizations to streamline their payment processing workflows by handling invoices from medical equipment providers, pharmaceutical companies, and insurance providers.
Our services automate manual tasks involved in handling invoices such as data entry, verification, and matching with purchase orders and receipts. This eliminates the need for manual intervention, reducing the time and effort required to process invoices.
You don't see your industry here? Contact us
What makes us a suitable invoice processing service provider for you?
Outsourcing your invoice processing needs to us provides a range of benefits, including:
Reduced fraud risk
Process invoices automatically help reduce the risk of fraud by applying a better tracking, validating, and monitoring platform like DIGI-SOFT.
Cost savings
By reducing manual labor and minimizing errors, businesses can save on operational costs, freeing up resources that can be used to grow the business.
Service capability
We can easily provide 24/7 service capability considering the time-zone differences and other factors.
100% Data accuracy
Depending on the complexity of the industry and the language used on the invoice, our automation technology can process from 92% to 97% of the entire process. We ensure 100% data accuracy guaranteed by our experienced workforce.
Seamless quality control process
A centralized quality control step helps both internal and external audit processing be more straightforward. At DIGI-TEXX, we utilize our experienced workforce to support handling exceptional cases to guarantee higher levels of data accuracy.
Compliance with the country's regulations
Invoice, E-invoice processing, and VAT compliance are one of the top challenging parts for many companies, especially for those that operate in different countries with different legal regulations. DIGI-TEXX ensures all invoices will be issued and archived according to the nation's regulations by complying with GDPR, ISO 9001:2015, and ISO/IEC 27001:2013.
All language support
We do data processing of invoices in more than 30 languages
Our exemplary project delivery capacity
Our claims processing solutions add value to any business (from small to large enterprises) around the world.
Our 20 Years of Proven Track Record
DIGI-TEXX VIETNAM 20th Anniversary
Reaching a new height
Our Dynamic and Experienced Employee
DIGI-SPORT
An exciting sports festival
Let's get in touch
Share your challenges and our experts will get back to you shortly.
At DIGI-TEXX, we take your privacy seriously and use your personal information only to provide customized services and a great site experience. Read our Privacy Policy
Want to contact us immediately? Call us here