Document Processing Services
Streamline your document processing workflows, reduce the time and effort required to handle documents manually.
24/7
365 Operating Services
1000+
Experienced employees
100%
Data security &
Quality Assurance
We provide a wide range of scalable services tailored to your specific needs
Despite the development of data processing technologies like OCR, machine learning, and deep learning, manual data entry is still necessary for data quality.
Many types of documents still need human intervention for several exceptional cases: poor quality scans, untidy handwriting, stamps, and written notes on a document. Human attention is an essential final step to ensure the quality of processed data matches the actual document.
Our combination of modern technologies and in-house professionals gives us the advantage of processing time and accuracy in processing high-volume documents. This mix also helps to streamline clients' business workflow, increase productivity, and enhance efficiency.
Trusted by more than +200 clients from home & Abroad
Document processing services
We provide accurate and cost-effective industry-optimized document processing solutions to streamline your business processes. Our experienced and professional staff ensures high-quality and accurate data. Here's a brief overview of our services:
Historical document processing/archives service
As historical documents age, they begin to deteriorate. To digitize and archive written and printed materials accurately and efficiently, we use a combination of human intelligence and AI technologies. DIGI-TEXX can process many languages, including old German, Spanish, English, Italian, and Russian, across a variety of document types. With our assistance, historical documents can be preserved for future generations.
Invoice Processing Service
Invoice or e-invoice processing can prove to be a troublesome process that requires a lot of time and resources. It also has a weak point as incorrect invoices can bring on harsh, negative impacts on businesses.
DIGI-TEXX applies expertise in technologies (OCR, Machine Learning), combined with in-house operators to achieve the maximum possible data accuracy in invoice processing. The service can be flexibly operated both offline at DIGI-TEXX and online on the client's system.
Claims Processing Service
We understand that processing insurance claims can be time-consuming and complex. That's why we offer specialized services to help streamline your processes and improve your operational efficiency.
Our insurance claims processing services can help you reduce administrative costs, optimize the existing legacy system and improve customer satisfaction rates. We use an optimal mix of people and technology to enhance operating performance and provide improved services to your policyholders.
Historical document processing
With age, historical documents written or printed on ordinary papers begin to deteriorate. Our combined use of human intelligence and AI technologies allows us to process, digitize, and archive both written and printed materials with the most achievable accuracy and efficient peak workload management.
Our technology is capable of detecting many languages, including old German, Spanish, English, Italian, and Russian on a multitude of document types. No matter the language or document type, DIGI-TEXX can help preserve and maintain historical documents for many generations to come!
Utility bill processing
At DIGI-TEXX, we offer top-tier utility bill processing automation solutions. From waste to gas to electricity bills, we handle it all with the highest level of quality. 1000 Providers already in the DIGI-TEXX platform.
Sales order processing service
Our team of experts can help you manage your sales orders from start to finish. We can assist with data entry, order validation, and order fulfillment, ensuring that your orders are processed quickly and accurately.
Transaction processing service
Is your business being bogged down by too many errors in processing transactions and customer orders? We offer various transaction processing services that are designed to streamline your business processes. Our services include order processing, claims processing, and loan processing.
You're gonna love dIGI-TEXX
Managers from many kinds of businesses turn to DIGI-TEXX to enhance their client's digital experiences.
Our Deployment Models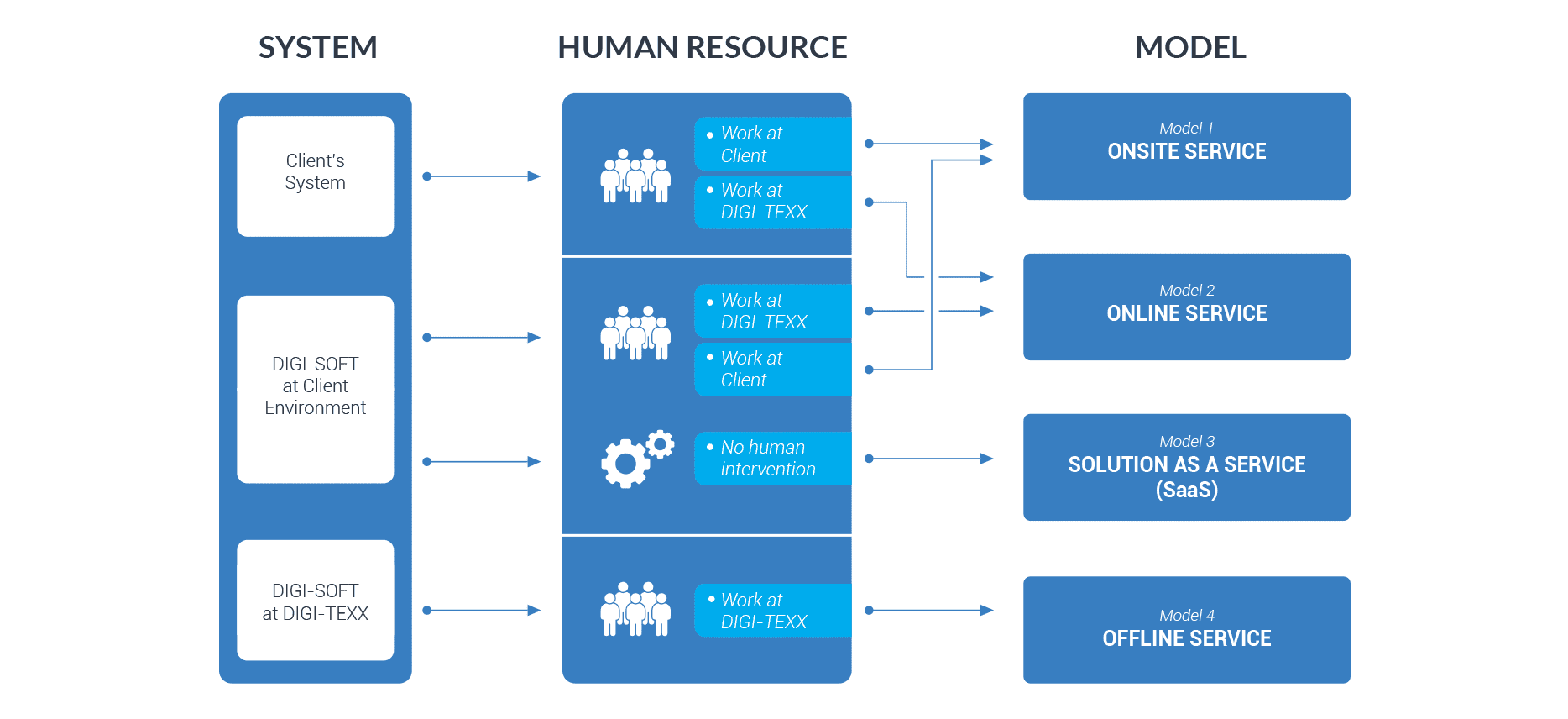 How does our document processing Process work?
We specialize in developing customized strategies that leverage the latest technologies to help you efficiently achieve your business goals. Our team of experts can assist your organization in exploring and implementing new possibilities while minimizing disruption and cost.
Vivamus integer suscipit taciti etiam primis tempor sagittis sit euismod libero facilisi aptent felis blandit cursus gravida sociis tempor.
Vivamus integer suscipit taciti etiam primis tempor sagittis sit euismod libero facilisi aptent felis blandit cursus gravida sociis tempor.
Vivamus integer suscipit taciti etiam primis tempor sagittis sit euismod libero facilisi aptent felis blandit cursus gravida sociis tempor.
Vivamus integer suscipit taciti etiam primis tempor sagittis sit euismod libero facilisi aptent felis blandit cursus gravida sociis tempor.
Your Industry will benefit the most from our services
DIGI-TEXX implements automation document processing tools and platforms to provide solutions for various industries. There are several document processing use cases across many industries:
Our services facilitate the verification and validation of loan applications, as well as the gathering and analysis of customer data for account opening and credit card purposes. We also verify customer identities and check for compliance with regulatory requirements.
Document processing services can help automate the process of verifying and validating claims, enhance fraud detection, and reduce the time required for manual processing. As a result, insurance companies can free up their staff to focus on providing better customer service.
HEALTHCARE
With domain experience in the healthcare industry, our document processing services can help automate the process of updating patient records, retrieving records for patient visits, verifying and validating medical claims, gathering and analyzing patient data, generating bills and checking insurance coverage, and submitting claims to insurance providers.
Historical data & document
Our intelligent process allows community members to connect with their ancestors and gain insights into their identities and origins. Our services:
Document & Article Classification
Document Structure Analysis
Extract Information Of Interest
Text Transcription & Annotation
Page Segmentation
You don't see your industry here? Contact us
What makes us a suitable document processing service provider for you?
We thoroughly understand your consumer concern and provide reliable support services on your behalf. Outsourcing your needs to us provides a range of benefits, including:
Affordable and flexible pricing model
We offer flexible pricing models based on clients' requirements. Clients can select the right model which best fits their purpose.
Data accuracy
At DIGI-TEXX, we understand that data accuracy is the first and critical standard of the data quality framework. We combine AI technologies and our specialists to ensure the highest accuracy rate.
Data security
Confidential information will remain secure and be restricted from outside exposure with a reliable information security management system (ISMS) based on the ISO 27001 standard with GDPR compliance.
Cost optimization
Outsourcing transforms fixed costs into variable costs and allows our clients to prevent large expenditures for business in the early stages and long-term run.
Round-the-clock support
Our operating service is 24/7/365 and we always put our client's concerns as the top priority.
Scalability and flexibility
Our service can adapt quickly to fluctuating volumes without compromising productivity and processing quality.
Our exemplary project delivery capacity
Our digital transformation solutions add value to any business (from small to large enterprises) around the world.
Our 20 Years of Proven Track Record
DIGI-TEXX VIETNAM 20th Anniversary
Reaching a new height
Our Dynamic and Experienced Employee
DIGI-SPORT
An exciting sports festival
Straight-Through Process for Customer Onboarding
Insurance
Intelligent Document Processing
Automated Insurance Claims
Insurance
Intelligent Document Processing
Global Invoice Processing
Logistics
Automated Data Extraction Solution
Let us answer your questions
Our team of experts is here to answer any questions you may have and provide you with a free consultation. If you don't see an answer for you below, feel free to send us a message.
Do you want to explore more valuable resources, drive business outcomes and achieve great success? Let's get in touch!
Share your challenges and our experts will get back to you shortly.
At DIGI-TEXX, we take your privacy seriously and use your personal information only to provide customized services and a great site experience. Read our Privacy Policy
Want to contact us immediately? Call us here