outsourced help desk services
Our help desk services assist your organization avoid staffing problems and improve user satisfaction.
24/7
365 Operating Services
1200+
Experienced employees
100%
Data security &
Quality Assurance
Flexible and Remote Help Desk Services For Your 24/7 Needs
Many internal teams struggle to support remote workers due to a lack of remote access, diagnostic tools, or telephone-based capabilities.
Outsourcers with extensive experience in defining, developing, and maintaining help desk procedures for various organizations can resolve issues that hinder reactive internal teams from providing consistent and high-quality support.
By outsourcing help desk services, your internal teams can focus on innovation and strategy rather than dealing with tedious technical issues. This allows them to pursue emerging business opportunities that drive results.
We can assist you with customer onboarding and education, ticket management (including escalation and resolution of common issues), as well as support metrics and closeout.
Partner with DIGI-TEXX to eliminate frequent troubleshooting and establish a streamlined approach to help desk support services.
Trusted by more than +200 clients from home & Abroad
Help desk services
We provide accurate and cost-effective industry-optimized help desk services to streamline your business processes. Our experienced and professional staff ensures high-quality and accurate data. Here's a brief overview of our services:
Help desk consulting
We offer comprehensive consulting services, starting with a feasibility study and continuing with guidance on sourcing models, help desk team composition and cost breakdowns. Additionally, we provide recommendations on the best help desk toolkit for your needs.
IT help desk service
Our service includes tackling complex issues on the code level. Our team of trained professionals works 24/7 to provide support when you need it most. We also offer comprehensive reporting and analytics to help you track the performance of your help desk and make informed decisions about future improvements.
Customer service desk
We provide a dedicated representative for your product/service customers. This allows for organized case management, diverse self-help options, and multiple channels of communication. With these features, we can successfully and expeditiously address thousands of support requests every day.
Outsourced technical support
At DIGI-TEXX, we promise to promptly resolve any incidents you may encounter while keeping prices affordable. To achieve this, we conduct root cause analysis of IT-related issues and continuously monitor your IT infrastructure to proactively manage problems.
Managed help desk services
We take responsibility for taking care of the entire help desk operation. This entails developing the necessary procedures, managing both technical and user-related concerns, and consistently monitoring and enhancing the help desk's performance.
Outsourced Network Operations Center (NOC) services
We pride ourselves on providing comprehensive 24/7 infrastructure monitoring and technical support services. This enables us to swiftly and effectively address IT infrastructure issues and proactively prevent defects.
You're gonna love dIGI-TEXX
Managers from many kinds of businesses turn to DIGI-TEXX to optimize their business costs and enhance their customer experiences.
Our Deployment Models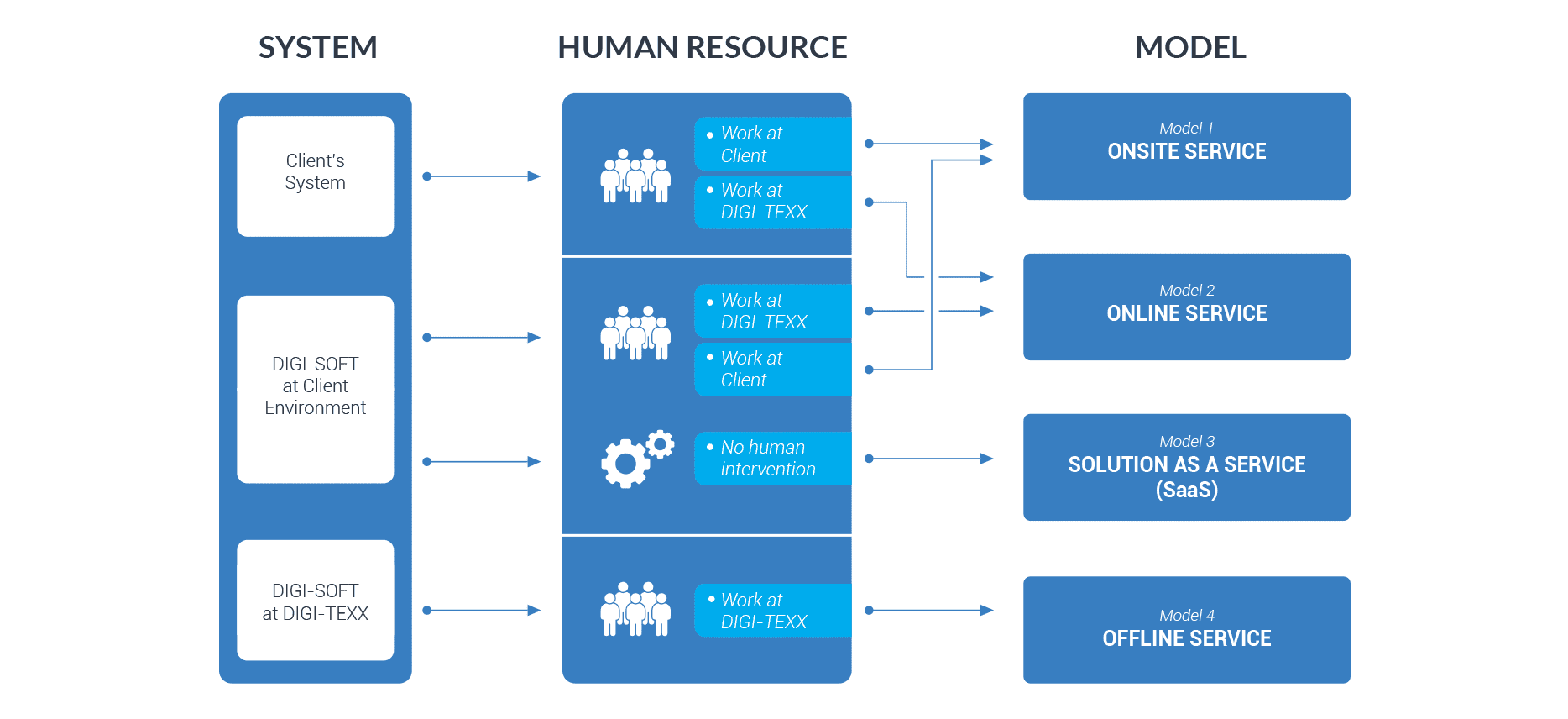 Our approach to deliver help desk services
We have developed an optimized N-step process to provide you with an efficient, secure, and convenient workflow. Here's how we approach it:
Vivamus integer suscipit taciti etiam primis tempor sagittis sit euismod libero facilisi aptent felis blandit cursus gravida sociis tempor.
Vivamus integer suscipit taciti etiam primis tempor sagittis sit euismod libero facilisi aptent felis blandit cursus gravida sociis tempor.
Vivamus integer suscipit taciti etiam primis tempor sagittis sit euismod libero facilisi aptent felis blandit cursus gravida sociis tempor.
Vivamus integer suscipit taciti etiam primis tempor sagittis sit euismod libero facilisi aptent felis blandit cursus gravida sociis tempor.
Industries we cater to
DIGI-TEXX implements automation help desk tools and platforms to provide solutions for various industries. We have the required experience and skills to work with clients from different industries and verticals. Some of the key industries we cater to include, but are not limited to:
You don't see your industry here? Contact us
What makes us an Ideal help desk service provider for you?
As a top help desk outsourcing company based in Vietnam, we offer our expertise, technology, and infrastructure to assist global businesses. We thoroughly understand your concern and provide reliable support services on your behalf. See below:
Affordable & flexible pricing model
We offer flexible pricing models based on the hour/transaction/volume and dedicated resources/packages. Clients can select the right model which best fits their purpose.
Cost Optimization
Outsourcing transforms fixed costs into variable costs and allows our clients to prevent large expenditures for business in the early stages and long-term run.
Dedicated Project Managers
We offer non-stop IT support from qualified engineers proficient in technology and debugging. In IT help desk outsourcing, you get a single point of contact to assist you with all IT shortcomings.
Data security
Confidential information will remain secure and be restricted from outside exposure with a reliable information security management system (ISMS) based on the ISO 27001 standard with GDPR compliance.
Guaranteed service desk SLAs
We guarantee you will always receive effective, efficient, and best-in-class help desk support.
Round-the-Clock Support
Our IT service desk solutions are available 24/7/365 via phone, email, web chat, or our secure web portal.
Multi-Channel Help Desk Support Options
Support the way your users want to be supported with IT help desk service available via phone, email, web chat, mobile app, or web portal.
Comprehensive reporting
Real-time reporting and customer portal for full transparency into your help desk service.
Certified IT Professionals
Deliver immediate support to your customers 24/7/365 with our team of talented IT help desk support experts.
Frequently Asked Questions
Our team of experts is here to answer any questions you may have and provide you with a free consultation. If you don't see an answer for you below, feel free to send us a message.
Our exemplary project delivery capacity
Our help desk services add value to any business (from small to large enterprises) around the world.
Our 20 Years of Proven Track Record
DIGI-TEXX VIETNAM 20th Anniversary
Reaching a new height
Our Dynamic and Experienced Employee
DIGI-SPORT
An exciting sports festival
Straight-Through Process for Customer Onboarding
Insurance
Intelligent Document Processing
Automated Insurance Claims
Insurance
Intelligent Document Processing
Global Invoice Processing
Logistics
Automated Data Extraction Solution
Let's get in touch
Share your challenges and our experts will get back to you shortly
At DIGI-TEXX, we take your privacy seriously and use your personal information only to provide customized services and a great site experience. Read our Privacy Policy
Want to contact us immediately? Call us here