Content moderation services
We offer automated and streamlined content moderation workflows using machine learning and AI-driven moderation models.
24/7
365 Operating Services
1000+
Experienced employees
100%
Data security &
Quality Assurance
What is content moderation, and how can it enable a safe environment for users?
Content moderation is the process of monitoring, assessing, and filtering user-generated content (UGC) based on predetermined rules to maintain and enforce community guidelines. Moderation can be performed by either human moderators or an automated system.
Why do we need online content moderation?
Nowadays, UGC is commonplace on any online platform. Therefore, moderating UGC has become business-critical if you want to build a healthy community for your brand.
Content moderation can help identify:
We're dedicated to assisting you in building a secure community platform for your brand's users. Our agents customize your brand communication to meet users'needs and expectations, all while fostering their trust in your brand using our user-generated content moderation services.
Trusted by more than +200 clients from home & Abroad
Content moderation services We offer
We provide comprehensive and cost-effective content moderation solutions to streamline your business processes. Our experienced and professional staff ensure that no undesirable content or unwanted images are published on online spaces across all digital platforms. Here is a brief overview of our wide range of services:
Web Content Moderation service
We have a team of experts dedicated to ensure that your users do not accidentally encounter blatantly offensive and negative content on your website. By employing web crawlers to search for and swiftly delete any user-generated information, DIGI-TEXX guarantees your brand's credibility.
Social Media Content Moderation service
Our media moderation team makes sure that all the content created by your users and promoted by your business follows the rules set by various social media platforms. DIGI-TEXX enables you to examine user feedback and develop communications that are suited to their requirements.
Community Moderation service
InContact, Freshdesk, Zendesk, Kustomer, Salesforce, and more are just a few of the more than 70 platforms that our team members have experience with. Our community moderation specialists will address any inappropriate or harmful behavior, preventing spam or other types of unwanted content, and resolving disputes between users to maintain your brand's reputation while improving user satisfaction.
Discussion Board Moderation service
Online discussion boards are monitored by our project managers to guarantee the exchange of accurate information. We regularly scan the boards to ensure all discussions remain on-topic, respectful, and constructive while adhering to the community's guidelines and rules. If we find any violating content, we will remove it right away in accordance with your policies.
Image moderation service
We evaluate all images and graphic content submitted by users to online forums and communities for sensitivity, quality, and compliance with guidelines. By doing so, platforms can detect instances of violence, offensive language, and drug and weapon use, and add that information to their datasets.
Video moderation service
DIGI-TEXX offers video content moderation services to help you rate, evaluate, and flag offensive video content and trolls that can harm your brand image. Our team of expert moderators will carefully review frame-by-frame and provide real-time reporting to ensure that any harmful content is promptly removed from your videos.
Text moderation service
Text moderation is performed on various types of content, such as documents, discussion boards, chatbot conversations, e-commerce catalogs, and chat room transcripts. Our skilled moderators search for duplicate content, offensive material, or content that does not meet community standards, and remove it as necessary.
You're gonna love dIGI-TEXX
Managers from many kinds of businesses turn to DIGI-TEXX to optimize their business costs, keep their digital community safe and maintain their brand's online presence.
Our Deployment Models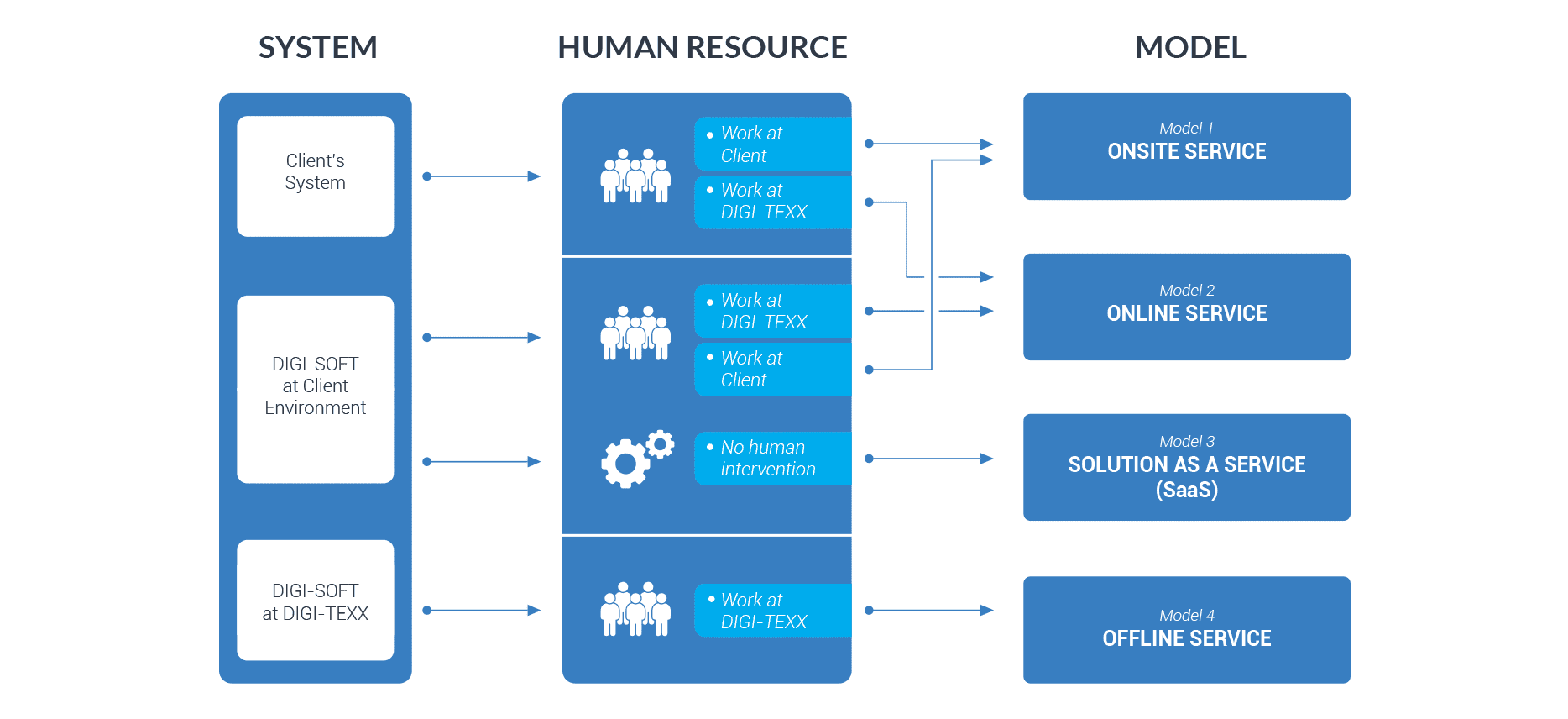 Our approach to deliver content moderation solutions
We have developed an optimized N-step process to provide you with an efficient, secure, and convenient workflow. Here's how we approach it:
Vivamus integer suscipit taciti etiam primis tempor sagittis sit euismod libero facilisi aptent felis blandit cursus gravida sociis tempor.
Vivamus integer suscipit taciti etiam primis tempor sagittis sit euismod libero facilisi aptent felis blandit cursus gravida sociis tempor.
Vivamus integer suscipit taciti etiam primis tempor sagittis sit euismod libero facilisi aptent felis blandit cursus gravida sociis tempor.
Vivamus integer suscipit taciti etiam primis tempor sagittis sit euismod libero facilisi aptent felis blandit cursus gravida sociis tempor.
Industries we serve
DIGI-TEXX implements the latest content moderation tools for various industries. We have the required experience and skills to work with clients from different industries and verticals. Some of the key industries we cater to include, but are not limited to:
Social media
We assist social media platforms to maintain a safe and engaging environment for their users by filtering out harmful or offensive content. Our agents prevent cyberbullying, harassment, hate speech, and other forms of abusive behavior. Moderation also helps social media platforms comply with legal regulations related to data privacy and online content.
DIGI-TEXX enables E-commerce platforms to maintain the integrity of their user reviews and ratings. By removing fake or spammy reviews, our moderators help ensure that customers can make informed purchasing decisions based on accurate and reliable information.
Healthcare
DIGI-TEXX assists healthcare platforms in complying with regulations related to patient data privacy and security. We detect sensitive or confidential information, ensuring that patient data is protected from unauthorized access or disclosure. Our services also help prevent the spread of false, harmful medical advice or information, improving the overall quality of the platform's content.
travel & hospitality
Platforms rely on user-generated content such as reviews, photos, and recommendations. Our experts will identify any incorrect or confusing information, ensuring that the platform remains trustworthy and users receive reliable information for their travel arrangements.
Entertainment and media
Content moderation services are essential for entertainment and media platforms that rely on user-generated content. Our specialists will filter out inappropriate or low-quality content, ensure the quality and relevance of the platform's content, and improve the overall user experience.
You don't see your industry here? Contact us
What makes us a suitable content moderation service provider for you?
As a top content moderation outsourcing company based in Vietnam, we are dedicated to sharing our expertise, technology, and infrastructure to assist global businesses. We thoroughly understand your concern and provide reliable support services on your behalf.
Flexible pricing model
We offer flexible pricing models based on the hour/transaction/volume and dedicated resources/packages. Clients can select the right model which best fits their purpose.
Cost Optimization
Outsourcing transforms fixed costs into variable costs and allows our clients to prevent large expenditures for business in the early stages and long-term run.
Data security
Confidential information will remain secure and be restricted from outside exposure with a reliable information security management system (ISMS) based on the ISO 27001 standard with GDPR compliance.
Multichannel Assistance
We offer a seamless and integrated customer experience across all channels and touchpoints: phone, live chat, text, email, Google Business Messages or Facebook Messenger; we've got them covered.
Round-the-clock support
Our operating service is 24/7/365 and we always put our client's concerns as the top priority.
Data accuracy
At DIGI-TEXX, we understand that data accuracy is the first and critical component/standard of the data quality framework. We combine AI technologies and our specialists to ensure the highest accuracy rate.
Let us answer your questions
Our team of experts is here to answer any questions you may have and provide you with a free consultation. If you don't see an answer for you below, feel free to send us a message.
Wondering if we can help you?
Our content moderation company adds value to any-sized businesses around the world. Let's take a look at success stories from our clients.
Building a cross-platform app to be used worldwide
Conor Kenney
Director of Professional Services
Leading a digital transformation
Conor Kenney
Director of Professional Services
Straight-Through Process for Customer Onboarding
Insurance
Intelligent Document Processing
Automated Insurance Claims
Insurance
Intelligent Document Processing
Digital Inspection System
Government & NGOs
Inspection System
Are you looking to moderate large amounts of content in real-time, enhance online experience and ensure your users safe? Get in touch with us now!
With a clientele of over 200 satisfied customers worldwide, we take pride in being a reliable service provider when it comes to outsourcing content moderation services. Share your challenges and our experts will get back to you shortly.
At DIGI-TEXX, we take your privacy seriously and use your personal information only to provide customized services and a great site experience. Read our Privacy Policy
Want to contact us immediately? Call us here